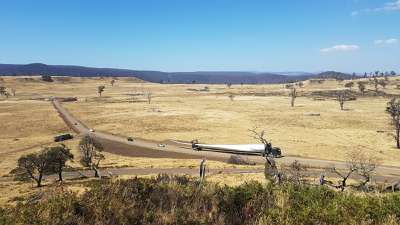 Starting this week many large oversize, over mass, very long and heavy vehicles are moving components to the Cattle Hill (Waddamana) Wind Farm site.
These movements will use
the Midlands Highway;
the Highland Lakes Road from Melton Mowbray through Bothwell; and
The Northern Waddamana Road to the wind farm site.
It is likely the convoys will move through between 6am and 12 noon, Mondays to Saturdays for the next 6 months. There might be some extra movements needed outside of these times.
Many of the loads will be under the control of Escort and Pilot vehicles.
There are speed restrictions on the Waddamana Road for the safety of all road users.
Please exercise caution. Please follow the instructions of the Escort or Pilot drivers. These drivers are trying to minimise delays and ensure the timely and safe travel of the convoy.
The convoys will be using UHF radio channel 40 until they reach the North Waddamana Road. Please feel free to listen for convoy updates however, if you wish to talk on the UHF radio please use another channel.
Wind farm construction vehicles are using other UHF radio channels (signed on the roadside) please try and keep these channels free for their use.
More can be found in the Castte Hill Wind Farm transport fact sheet, at the Information Centre located in Bothwell, by contacting This email address is being protected from spambots. You need JavaScript enabled to view it. or phoning 1800 002 070.
Sourced from https://www.ifs.tas.gov.au/news/2019/mar/04/traffic-disruption-alert-affecting-penstock-lagoon-anglers